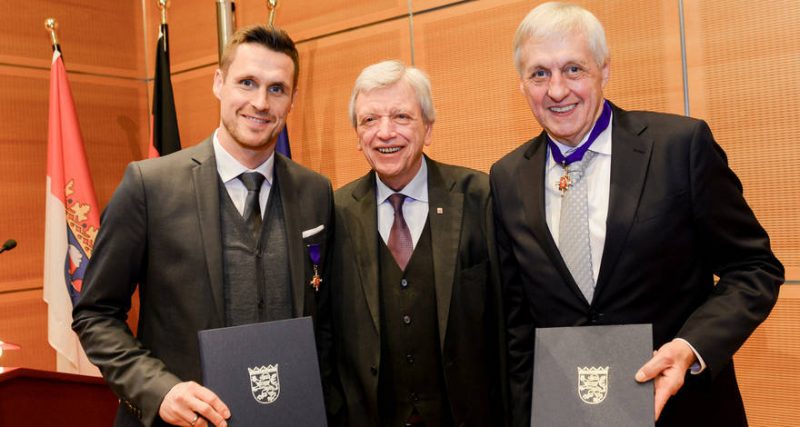 The state premier of Hesse, Volker Bouffier, has honoured the charitable work of Borussia Dortmund's director of professional football, Sebastian Kehl.
12.02.2020
Three-time German title winner, DFB Cup winner and World Cup runner-up – Sebastian Kehl certainly had a playing career that most footballers can only dream of. Beyond his exploits on the pitch, the Hesse-native has dedicated himself to the fight against racism and the promotion of civic courage.
Since 2003, he has supported the social initiative "Schule ohne Rassismus – Schule mit Courage" (Schools without racism – schools with courage), a project which empowers children to live together in harmony. Sebastian Kehl is the patron of the Alexander-von-Humboldt School in Lauterbach and the Richard Müller School in Fulda, both of which are involved in the project.
Kehl: "Receiving this accolade is a great honour for me"
Kehl, alongside former Eintracht Frankfurt and Germany player Steffi Jones, is also a patron of "Fair Play Hesse", a social foundation set up by the Hesse Football Association in partnership with the Hesse Ministry of the Interior and Sport. "Fair Play Hesse", supports schemes and initiatives that promote integration, tolerance and fair play.
"Hesse has produced many outstanding footballers, and one of the very finest of them is, without doubt, Sebastian Kehl. Although he achieved such incredible things in his career, he never forgot to play a part in the life of his local federal state. Sebastian Kehl has done extraordinary work to support the values of diversity, tolerance and fair play, and in doing so, he has helped create harmony and cohesion in our society. For this, I am delighted to present him with the Hessian Order of Merit ," said Bouffier as he handed Kehl the award. "I am very pleased to receive this accolade from state premier Bouffier. It's a great honour for me," said Kehl.