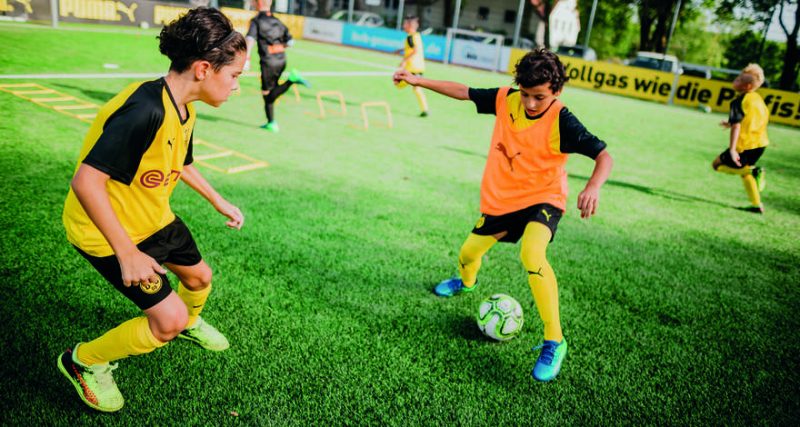 The development and performance courses at the BVB Evonik Football Academy allow young players to fine-tune their talent.
In total, 40 young players have managed to use these courses to help make the jump up to the Youth Performance Centre. We're going to tell the stories of four of them: Mia, Felix, Arvit and Kjell.

Let's start with Mia. When she first came to Dortmund, her father always brought a set of pyjamas for her. It wasn't that there was any risk of the football-mad youngster falling asleep during one of the sessions at the BVB Evonik Football Academy. Far from it! In fact, falling asleep is just about the very last thing that Mia is likely to do when she has a ball at her feet.

There was another reason why her father always brought a set of pyjamas. Mia's family lives on the Dutch-German border. After a tiring training session on the academy pitches in the shadow of the west stand of SIGNAL IDUNA PARK, Mia would love nothing more than to have a nap during the drive home. To help her on the way to the land of nod, her father would give her a set of pyjamas to change into. Once they arrived home, he would carry her up to her room and tuck her into bed – where she no doubt dreamed sweet dreams of football in which the colours Black & Yellow almost certainly played an important role.

Mia's story is true. The talented youngster was just six years old when she first came to the BVB Evonik Football Academy. Now she's nine and, as there is no women's team at Borussia Dortmund, she will soon be moving to join the youth set-up at Borussia Mönchengladbach. When the time comes, it will be a simultaneously happy and melancholic moment for both Mia and the coaching team at the academy, who have obviously grown close to the youngster and will be cheering her on as she moves to pursue her dream with the other Borussia. The only person who will be entirely happy with the move is likely to be Mia's father, who had spent three years shuttling both Mia and her older brother back and forth between the Dutch border and Dortmund for three years, and will now no doubt be looking forward to his new life without transport updates and traffic jams on the motorway.

Four pillars to support the great dream

Once again, we're paying a visit to the Football Academy in Rabenloh. Few other clubs offer such a fine footballing education, and it's all based on four core pillars: sport, international outreach (which we've already shone a light on in BORUSSIA), social projects (which we will cover in future) and performance. Today's visit is all about the latter of the four. It would be remiss not to mention the five partner clubs that BVB works alongside to ensure that children and young people from a large catchment area can receive special training sessions once or twice a week, in addition to regular club training, without having to make their own way back and forth from Dortmund. "We want these players to be able to stay in their regular social environment – with their family and friends around them – for as long as possible," says Torsten Sengteller.

Sengteller, 55 years of age, started working at the club's Youth Performance Centre in 2008, and took over as sporting director at the academy three years ago. Sengteller is aiming to form ever-closer ties between the Youth Performance Centre, the academy and the partner clubs. The cooperation between BVB and SC Münster 08, 1. FC Bocholt, GSV Moers, SV 20 Brilon and 1. FC Wülfrath has received a real boost in recent times.

Borussia's cooperation with these five partner clubs means that young players who live over 50km away from Dortmund can be integrated into the ranks of the academy while still training with their home clubs. What is more, other talented youngsters who play in the vicinity of these clubs have the opportunity to join weekly performance-oriented training sessions held at the partner clubs and led by members of the coaching team from the BVB academy.

The development and performance-oriented courses allow young players to fine-tune their talent. These courses cannot be booked. Players can't just register to join. The development and performance courses are strictly invite-only. Players are only given an invitation after catching the eye of the academy's scouting team. Youngsters might stand out at one of BVB's "Talent Days," which take place annually and are organised in collaboration with partner clubs. Or they might make a positive impression at one of the academy's open-access programmes, such as a matchday or birthday course. Not long ago, a young talent was scouted at a "Borussini Course". He was only there because he'd won a place at the course in a competition.

"We talk a lot with the parents"

"Obviously things like that don't happen every day, but it's certainly come up a few times in the past," says Vanessa Heim. The 28-year-old is another member of the coaching staff. She's responsible for coordinating the development and performance courses as well as managing the cooperation between the academy and various schools and daycare centres. She always maintains close relations with parents, who have a vitally important role to play in the whole process – and not just as personal chauffeurs. Parents should provide their children with positive motivation and not burden them with pressure. They should praise and not criticise. When watching from the sidelines, they should keep quiet and not try to involve themselves in the sporting side of things. The coaches, and the coaches alone, decide what happens on the pitch. "We talk a lot with the parents, and honestly, it's not all that difficult," says Heim, although, according to her colleague Dennis Horschig, "that may have something to do with the fact that we don't have the kids at weekends, when they play their matches, so we don't have to decide who's named in the starting line-up and how much playing time each kid gets." Horschig has noticed that "many parents act respectfully as soon as they walk onto the premises of the academy. They know they're on Black & Yellow territory. It can be far more difficult for coaches at the partner clubs."

One thing's clear: becoming a top footballer is about a lot more than just being good with a ball at your feet. That's why the academy offers far more than just simple training drills. The approach taken is based on the Heidelberg Ball School, in which age-appropriate training exercises are supplemented by yoga exercises and Life Kinetik®, which is essentially brain training through movement. Nutritional advice and workshops also form part of the holistic approach. Furthermore, it goes without saying that students are taught about the values which the club holds dear. "The participants in our development and performance-oriented courses learn about how to conduct themselves properly when wearing the BVB logo on their chests." It may sound slightly severe, but in reality, it's anything but. The six most important rules are displayed on the walls of the dressing room. Youngsters are taught to play with respect, fair play and team spirit. These are the values that define team sports, the values that make sport so special. The rules are all given equal standing on the wall. But there's arguably one that deserves a special place above the others. It's the one that manages to encapsulate the coaching team's approach in just four simple words: "We have fun together." That's what it's all about at the end of the day.
Together we are a team.
We play fair and we play with full commitment.
We respect and support one another.
We don't argue among ourselves.
We can depend on one another.
We have fun together and not at the expense of others
The connection remains

The approach taken by the academy is a success. The statistics say as much. Over 40 young talents have made the jump from the BVB Evonik Football Academy up to a Youth Performance Centre. 17 outfield players and two goalkeepers have gone on to play for the Borussia Dortmund youth teams, while just as many have done so for other clubs: VfL Bochum, Rot-Weiß Oberhausen, Borussia Mönchengladbach and – yes, it happens – FC Schalke 04.

Felix Buer is one of them. The 20-year-old took part in his first development course eight years ago, led by head goalkeeping coach Rüdiger Kos. It proved to be the first of many visits to the academy training ground. After impressing at the BVB academy, Buer was signed by Rot-Weiss Essen. He then had a spell at Oberhausen before making his way to SV Werder Bremen, where he plays for the U23s and regularly trains with the first team. In fact, the former academy prospect was part of the matchday squad when BVB hosted Werder in the Bundesliga this season. Rüdiger Kos was delighted when his former pupil got in touch with him before the match to ask if they could meet up for a catch-up after the final whistle. "We often keep in touch with players and their parents for many years. Of course you're always interested in how they're getting on and where they've ended up," says Kos. The connection remains strong long after the players have left the academy.

Arvit also made the leap up to the Youth Performance Centre through a performance-oriented goalkeeping course. He now stands between the sticks for the BVB U11s. As for Kjell Wätjen, he took part in a BVB holiday course back in 2015 while he was playing for FSV Gevelsberg at U9 level. By the time he reached U10 level, he was playing for Borussia Dortmund. He's now one of the top performers for the club's U14s and was named Youth Player of the Month for November 2019. "Kjell is hard-working and assertive," says coach Karsten Gorges, who also praises the youngster's exemplary attitude as well as his willingness to learn. Kjell himself says: "I like playing at a high tempo, I'm a goal threat, I have good vision and I look to play dangerous balls time and time again. I'm very ambitious and that sometimes leads to me being too rushed in my play. That's something I'm working on." A healthy sense of self-confidence, coupled with the capacity for self-reflexion. Two important virtues that might just help Kjell make the step-up from top talent to top player.

Little Mia, little Arvit, not-quite-so-little Kjell and the now-not-little-at-all Felix. Just four of the youngsters that have passed through the performance department of the BVB Evonik Football Academy. Four short chapters that could turn into four great stories – stories of footballing dreams turned true. If the youngsters make it all the way, then Vanessa Heim, Torsten Sengteller, Dennis Horschig and Rüdiger Kos will each have had their own little part to play as co-authors.