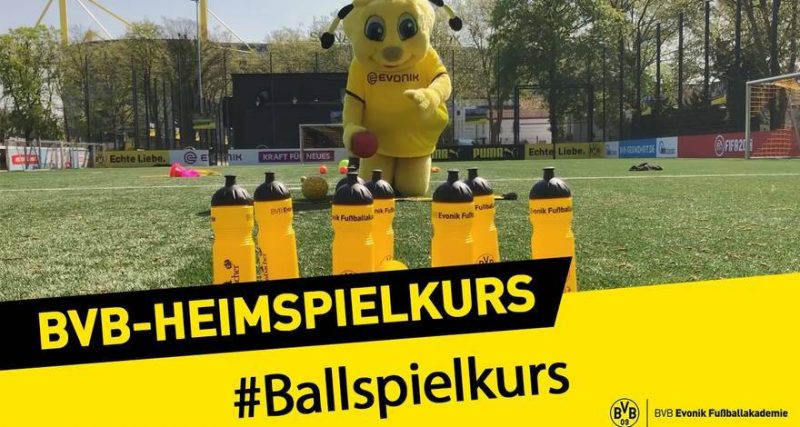 A home game course with a little animal involvement?
A home game course with a little animal involvement? Given that club mascot EMMA feels as at home at the BVB Evonik Football Academy as she does in her Black & Yellow nest, she dropped by to offer her bee powers to help our coach Vanessa.
As is usual in all sports, it is important to warm up well before playing ball games to avoid injuries. Vanessa showed EMMA some exercises on the artificial turf pitch at the football academy to get the bumblebee's body moving. Arms spinning, sometimes forward, sometimes backward, or even in an alternating rhythm. EMMA followed the instructions of our experienced coach Vanessa. The only thing EMMA really struggled with was getting a football to rotate around her hips. Not to worry though, no queen bee has fallen from the sky yet.
After a successful warm-up phase, we went straight to the ball exercises. Creatively designed by Vanessa, our mascot carried them out to perfection. The sports-mad bee got off to a flying start as she aced the first challenge. Tasked with launching three targeted "attacks" on 09 BVB Evonik football academy bottles, used as targets, EMMA knocked down a total of 8 bottles. Not a bad start! The next exercise consisted of throwing four different sized balls through two hoops. The smallest ball counted for four points, while the largest for just one. The Black & Yellow bee needed nine throws to reach the 20-point mark. We are almost certain that our young home game players won't need as many throws!
Will EMMA manage to throw different sized balls through rolling tyres? Or hit a moving ball with rolled up BVB socks? Watch the new home game course to find out whether you can keep pace with our footballing bee! Let us give you a little hint of what happens: in the partner game, EMMA goes all out and actually manages to beat Vanessa. We wish all our young footballers the bee-est of times when trying it out at home!
Click here for the BVB Football Academy YouTube Channel.