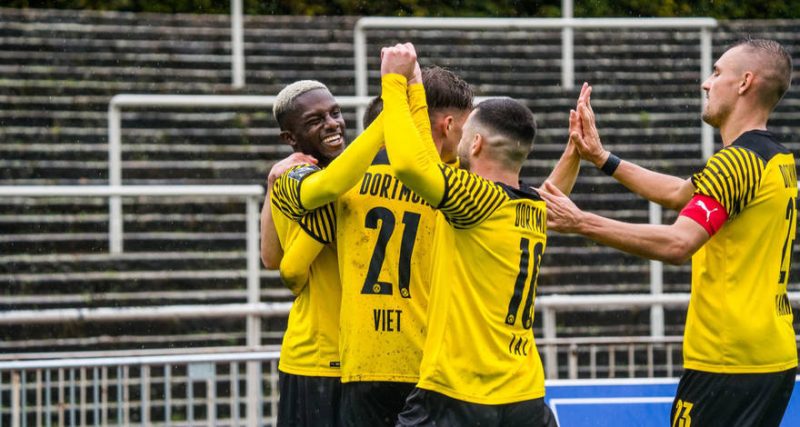 Goals from Tobi Raschl and Richmond Tachie saw the Black & Yellow reserves go top of the table for the time being at least.
The Borussia Dortmund U23s beat Würzburger Kickers 2-0 (2-0) at home on Matchday 11 of the 3. Liga season. Goals from Tobi Raschl and Richmond Tachie saw the Black & Yellow reserves go top of the table for the time being at least.
The opposition: Head coach Torsten Ziegner's side have not yet properly found their feet in the 3. Liga since their relegation from the Bundesliga 2. Their first victory did come until Matchday 9 – against league leaders Magdeburg of all teams. Würzburg were beaten 4-0 by Wehen Wiesbaden in their last outing.
Personnel matters: BVB boss Enrico Maassen made two changes to his starting XI, with Lennard Maloney and Ansgar Knauff replacing Kolbeinn Finnsson and Ole Pohlmann.
The match & analysis: Borussia Dortmund made the perfect start to this match. A counter-attacking move involving Franz Pfanne and Berkan Taz was rounded off by Tobi Raschl, who beat Kickers goalkeeper Bonmann with a low drive from the edge of the box to fire his side into a 1-0 lead after 100 seconds. BVB continued to attack bravely in the period that followed and repeatedly put together some good attacking moves. Würzburg initially struggled going forward, placing a strong emphasis on the right flank where former BVB youth player David Kopacz was playing.
BVB looked dominant and posed headaches for the visitors time after time. Richmond Tachie found himself clean through on the Würzburg goal in the 25th minute and slotted the ball inside the near post to make it 2-0. Würzburg could not live with the Dortmund youngsters' high tempo. The Black & Yellows continued to create good opportunities to extend their advantage, with attempts from Tachie (28) and Viet (35) going narrowly wide of the mark.
The 976 spectators at Stadion Rote Erde saw little change in the balance of play after the interval. Würzburg tried but rarely managed to pose problems for the Dortmund defence. The Black & Yellows moved the ball about well and looked for counter-attacking opportunities. Substitute Tattermusch had a chance to extend the lead to three goal with five minutes remaining, but his attempt flew narrowly wide of the frame of the goal. It ultimately proved to be a comfortable 2-0 home win, as the BVB youngsters climbed into pole position.
BVB U23s: Unbehaun – Maloney (Bornemann, 66), Dams, Papadopoulos, Knauff (Bah-Traore, 83), Pfanne ©, Raschl, Viet (Makreckis, 83), Pherai, Tachie (Tattermusch, 83), Taz (Pohlmann, 68)
Goals: 1-0 Raschl (2), 2-0 Tachie (25)
Outlook: Next up for our U23s is a trip to Eintracht Braunschweig, who were relegated from the second tier last season, on 16 October (kick-off at 14:00 CET).